GREENWAY CHALLENGE
 1. How did Hominy creek get its name?
a) Mrs. Hominy's hotel located on the banks of the stream in 1884.
b) Hulled Indian corn used as a cereal and as a vegetable.
c) A Dutch company that built the American Hominy Corporation close by.
d) The Hominy Valley community that farmed and thrived here in the 1800s.
b). You hungry? It's unclear who named Hominy Valley and Creek. New settlers adopted a form of a native word for dried corn. The Cherokee farmed the area for hundreds of years before white settlers arrived. Fifteen years before Buncombe County was founded, General Griffith Rutherford crossed the Swannanoa Gap into the Blue Ridge. In early September of 1776 Rutherford and his 2400 men entered what was referred to as Cherokee country. The Cherokee left the area and fled to the west.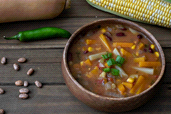 Hope that was fun. Keep going. The more quizzes you take the more chances for prizes. And here is what a Cherokee Three Sisters Stew w/ corn (hominy), beans, and squash looks like. Ymmm.
1B.  What is total greenway distance of Buncombe County Greenway and Trails Master Plan?
a) 102 miles planned; Wilma Dykeman Greenway brings completion to 13.8 miles.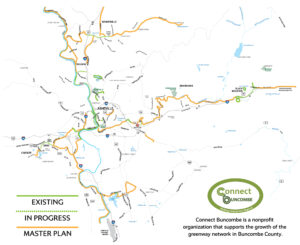 b) 72 miles planned; 25 completed.
c) 50 miles planned and we now have 5 miles completed.
a). You got it. The Buncombe County Greenways & Trails Master Plan was adopted by Buncombe County Commissioners in 2012. The first greenway developed was the 1/2 mile French Broad River Park in 1988. Today there are trails in Asheville, Black Mountain, Woodfin, and Lake Julian. Trails soon coming to Enka.
Stream on to the next quiz.
2. Why are these steps here?
a) Bleachers to sit on and watch boat races.
b) A place to climb in and out of your water craft.
c) This is a U.S. Geological Survey flood gage station to measure increasing rise in flood waters.
b). Well done! This is a river access point at mile 66.8 of the 140 mile blueway of the French Broad River Paddle Trail that runs from the headwaters in Rosman, NC to Douglas Lake in TN.
2B. Is this a bunker?
a) No, it's a milk storage shed used when Biltmore Farms had dairy cows grazing nearby.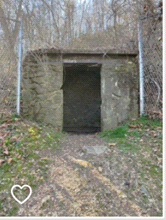 b) I haven't a clue.
c) No, it's a place to duck inside during a thunder burst. That's why they call it ducking, so you don't become a duck.
b). That is the most correct answer. Even the great "Answer Man" John Boyle of the Asheville Citizen-Times couldn't track this down. Seems no one knows. What's your guess?
Waddle on to the next quiz.
3. Many things share the river corridor with greenways. Select those you can see here.
a) Sewer lines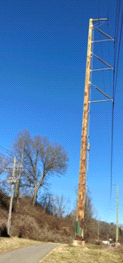 b) Electric transmission
c) Animal movement
d) Bikes
e) Airplanes
f) You
g) Plants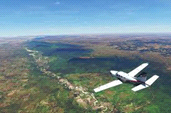 h) Ducks
Yep, all of these and probably more. Bet we confused you on airplanes! Many small planes chart their course along rivers and roadways so they don't get lost.
3B. What is this?
a) A pile of rock someone left.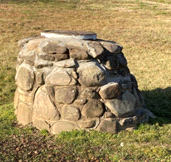 b) Mile marker 4 for the greenway.
c) A sewer manhole.
c). You got it. Many of our sewer lines run adjacent to streams. Manholes allow access for maintenance and repair. When the greenway was developed they dressed this one up. It's above ground so flood waters don't enter the sewer line.
4. This is a bike maintenance station that you may use. What activity/sport is not played at Carrier Park?
a) Roller hockey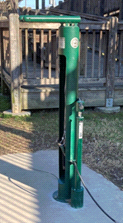 b) Basketball
c) Lawn bowling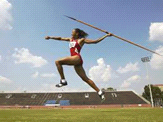 d) Javelin
d). Javelin is not allowed at busy Carrier Park. If you want to throw a spear as far as you can, find a dedicated track & field facility. The rest of us will appreciate it.
4B.  What is the length of the Asheville Velodrome track?
a) Five Jackson Buildings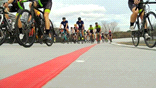 b) Seven Hotel Arrases
c) Nine Buncombe County Courthouses
d) Ten Flatiron Buildings
b). The Asheville Velodrome track is 1,633 feet—slightly over seven times the height of Asheville's tallest building,


the Hotel Arras (228 feet). It is a lot to ride up!
You can now roll up to the next question.
5. What was first use of Carrier Park land?
a) NC's largest drum circle


b) Horse stables
c) Ferry boat entrance
d) Airplane runway
d). Speedy Golzales, you rock! Carrier Field/Owens Field began as a small airport built in the mid-1940s. In 1962, a race car track, the New Asheville Speedway, was built on the site.
5B.  Which Buncombe County Commissioner was a NASCAR winner and repeat champion at the Asheville Motor Speedway?
a) Robert Pressley

b) Al Whitesides
c) Teri Wells
d) Brownie Newman
a). You are not at the finish line yet, but you made it this far. Buncombe County Commissioner Robert Pressley is a retired racecar driver. He competed in NASCAR for many years, and won nine championships at the New Asheville Motor Speedway (1965, 1970, 1971, '73-74, '84-87). Pressley has been serving as County Commissioner from 2016. Pressley has supported greenways throughout Buncombe County. Let your County Commissioners know you support additional greenways too.
6. The French Broad River basin is the only place to find..?
a Eco friendly jet skis.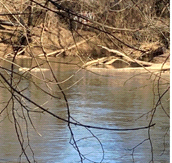 b) A giant salamander called the Eastern Hellbender.
c) Pink river dolphins.
d) Great Blue herons.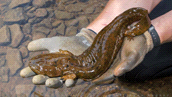 b). The Hellbender is the largest salamander in the United States. Referred to by locals as "mud devil", "devil dog", "ground puppy", "snot otter", "lasagna lizard", and "Allegheny alligator", the hellbender can be found crawling around the bottoms of clear, silt-free mountain streams. A protected species, so be careful not to disturb their habitat.
Slippin' and slidin'. Move on to the next question.
6B.  The year is 1947; the first mobile phone is invented. With your back to the river what would you see in front of you?
a) A wooden rollercoaster and small amusement park.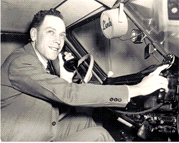 b) Vanderbilt Pizza and Ale House, Asheville's first brewery.
c) A small local airstrip named Owen's Field.
d) A riverside fishing lodge.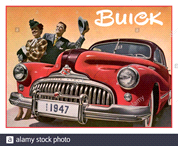 c). Carrier Field/Owens Field began as a small airport built in the mid-1940s. In 1962, a racecar track, the New Asheville Speedway, was built on the site. And in 1999 the site became Parks and Recreation's largest park, used for roller hockey, lawn bowling, picnics, festivals and much more.
7. Walls of graffiti!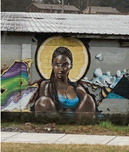 Close by is the award winning barbecue restaurant, Twelve Bones. What famous person had their driver bring them here straight from the airport?
a) Barack Obama
b) Guy Fieri
c) Jennifer Lopez
d) Elton John
a). The 44th President Barrack Obama visited the restaurant twice while President and even had a staffer pick up a takeout order during another stay in Asheville.
Thanks for playing. You are about half way on the Challenge course. Keep it up!
7B.  This waterway, also known as Town Branch, goes by the name of…?
a) Asheville Creek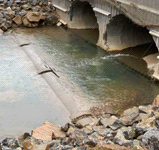 b) Nasty Branch
c) Wolfe Run
d) The Old Babbling Brook
b). Nasty Branch. Soon to be the home of Nasty Branch Greenway. The stream runs through the historically Black Southside neighborhood just south of downtown. Native Americans called it Cripple Creek. The neighborhood, where approximately half of Asheville's Black population lived, suffered major upheaval under Asheville's urban renewal program in the 1970s and 1980s, one of the largest urban renewal projects in the Southeastern United States. The stream came to be called Nasty Branch and residents choose to keep the historic name.
Stream on to the next question.
8. There are several side streams that flow into the French Broad River. What is this stream's name? Who/What is it named for?
a) South Creek named after the Southern Railroad that had a depot located nearby.
b) Bacoate Creek named for Osie Bacoate, a local civil rights activist who lived in the nearby WECAN neighborhood.
c) Wheeler Creek named for Edward Wheeler and the nearby New Wheeler Brokerage Company.
b). This stream was named in 2017 to honor Mrs. Osie Bacoate, an African American who lived in the West End/Clingman Avenue Neighborhood. She was a local civil rights activist and was honored by the community for her lasting impact. Her son Matthew Bacoate Jr. ran Afram, Inc, the largest African American owned business in the history of Asheville, which operated in what is now the Wedge Studios.
8B.  What is this stone wall a remnant of?
a) A remnant of the Asheville Cotton Mill.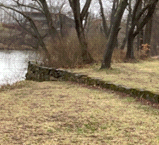 b) I don't know.
c) Water diversion for flood events.
d) None of the above.
a), b). There are actually two correct answers here since this wall is perhaps a remnant of the old Cotton Mill, but your quiz publisher does not truly know for certain.
This is a nice place to sit and ponder the meaning of quizzes.
9. Look over there a distance.
What was this building's original purpose?
a) Glove warehouse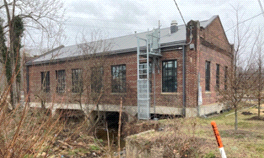 b) Public bath house
c) Public Service Gas Company
c). Public Service Gas Company. At least, that is what we believe. If not, state your case. Today this building serves as a public space and has public restrooms. Yea!
9B.  Look in the distance toward the train crossing. There is a white mark on this building. What does it mean?
a) The river height of the French Broad during a historic flood level.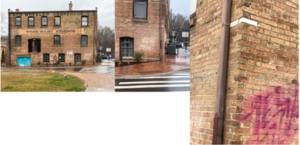 b) The place where a second mason contractor began work during construction.
c) Height of basement ceiling so owner knew how large a bundle could be stored upon delivery.
a). This is what the flood of 1916 looked like. Not a good day on the river. This is a high water mark for the French Broad River.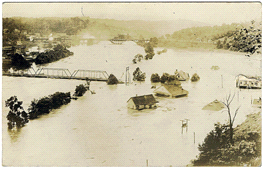 Stream on to the next quiz.
10. It's the end of the 1800's, the C.E. Graham Company operated here and made what?
a) Candelabras for the Biltmore Estate.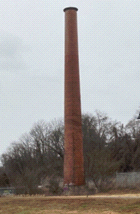 b) Cotton fabric for Levi Strauss.
c) Bushel baskets for fruit growers.
d) Graham Crackers sold throughout the United States and as an ingredient in Moon Pies!
b). Cotton denim fabric for Levi Strauss. When Moses and Ceasar Cone purchased the mill in 1887 they renamed the place Asheville Cotton Mills seen in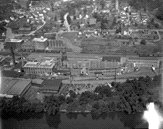 this aerial view.
Fly on to the next question.
10B. This lonely smokestack was once part of a big factory in the early 1900's. What did they make here?
a) Rubber tires for Henry Ford.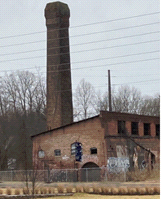 b) Custom China for the Chicago Columbia Exposition.
c) Pure Mount Mitchell Ice.
d) Railroad ties.
c). You just earned an ice-cold drink. Takes heat to make ice. Go figure! In 1907 Asheville had four ice making plants. There was no shortage of ice.
Is there a chill in the air? Hurry to the next quiz station.  Here is the old chimney adjacent to the Cotton Mill.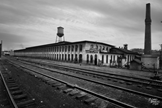 11. What type of fish can you expect to catch in the French Broad River.
a) Smallmouth Bass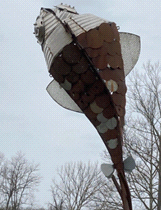 b) Muskellunge
c) Largemouth Bass
d) Catfish
e) Red Eye
f) Crappie
g) Sturgeon
h) Pickerel
i) Blue Gill
If you guessed all of them you made the school! Noted as one of the oldest rivers in the world the French Broad River is chock-full of many warm and cold water species of fish. Muskie are the biggest predators in the river and can live in the same 5 mile stretch for over 10 years! They get really big! Up to 50" and 40 pounds.
If you think this contest is fishy, go look off the side of the boat dock and see the real ones.  The image is a Muskie caught on the French Broad River.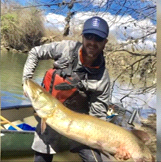 11B. Have you ever floated on the French Broad River? No points for this question.
Many of our greenways follow streams such as the French Broad River. What is the average water flow of the French Broad River? Price-Is-Right rule: Closest response in cubic feet per second (cfs) wins but cannot exceed actual amount.
a) 1,200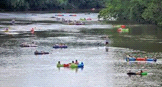 b) 2,750
c) 4,600
b). Correct. That is the average flow but on our hot, dry summer days the river was reduced in 1979 to its lowest flow rate of 704 cfs. That's a lot of butt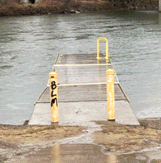 grabbing rocks! 3,000 cps is the flow rate most outfitters recommend for a safe float trip on the river.
Float on to the next quiz.
12. Buncombe County Greenways & Trails Master Plan
How far a walk is it from White Duck Taco to Hominy Creek?
a) 4.5 miles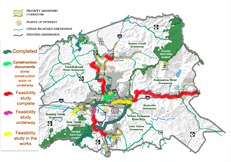 b) 5.8 miles
c) 7.5 miles
d) 8.6 miles
a). 4.5 miles. 9 miles round trip. Better stop and get something to eat. There are several drink and food establishments along the greenway.
12B. When did the railroad first come to Asheville?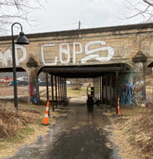 a) October 3, 1880
b) July 4, 1830
c) April 1, 1894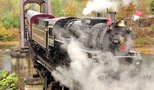 a). The Western North Carolina Railroad Company completed its track into Asheville on October 2, 1880. Train service began in 1858 from the east in Salisbury and reached Old Fort in 1873. There's a good book about the railroad construction up the Old Fort grade: The Road by John Ehle.
Puff on back to the beginning of the quiz.