Greenway Safety
Guidelines for a Great Greenway Experience
Greenways are shared recreational spaces open to a wide variety of visitors. To help improve your experience and safety when biking, walking or exploring Buncombe County's (or any municipality) greenways, we strongly encourage all trail users to abide by the following safety and courtesy guidelines.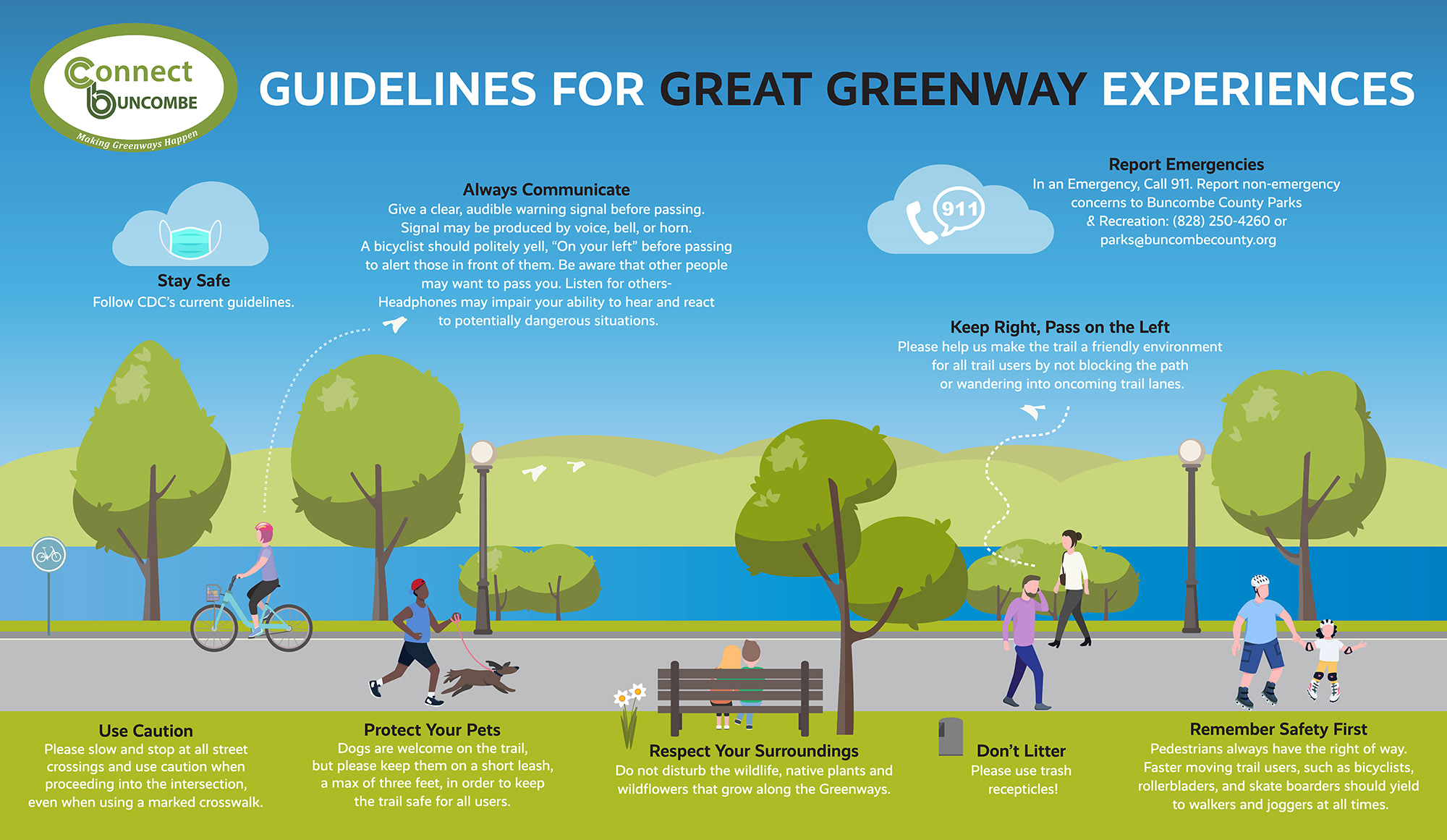 1. Keep Right, Pass on the Left: Please help us make the trail a friendly environment for all trail users by not blocking the path or wandering into oncoming trail lanes. All trail users should respect other users on the facility regardless of their mode, speed or level of skill. Walk and bike on the right side of the trail to facilitate two-way traffic and using caution when passing other trail users. Pass others going in your direction on their left. Look ahead and back to make sure the lane is clear before you pull out. Pass with ample separation. Do not move back to the right until safely past.
2. Remember Safety First: Pedestrians always have the right of way. Faster moving trail users, such as bicyclists, rollerbladers, and skate boarders should yield to walkers and joggers at all times. When the trail is busy, ride single file because paths may be unlighted and somewhat secluded, it's good to consider only using them in daylight hours and/or traveling with a companion.
3. Always Communicate: Give a clear, audible warning signal before passing. The signal may be produced by voice, bell, or horn. A bicyclist should politely yell, "On your left" before passing to alert those in front of them. Be aware that other people may want to pass you. Listen for others- Headphones may impair your ability to hear and react to potentially dangerous situations.
4. Maintain a Safe Speed: Keep Moving- Do not congregate or remain idle. Please slow down when rounding curves, passing other trail users, traveling downhill, where the trail narrows, approaching intersections or when conditions dictate. Bicyclists will typically be the fastest traffic on a trail. If your speed endangers other trail users, check for alternative routes or consider riding on the road. Selecting the appropriate location for your ride is safer and more enjoyable for all concerned.
5. Use Caution: Please slow and stop at all street crossings and use caution when proceeding into the intersection, even when using a marked crosswalk.Provide plenty of room to allow faster trail users to pass.
6. Protect Your Pets: Dogs are welcome on the trail, but please keep them on a short leash, a max of three feet, in order to keep the trail safe for all users. Additionally, please pick-up after your pet. Waste Bags are provided along the trail for waste removal, please deposit full bags in trash receptacles.
7. Respect Your Surroundings: Do not disturb the wildlife or the many native plants and wildflowers that grow along the Greenways. Please stay on the designated trail, paved and marked trail at all times, especially in areas of private property.
8. Be Prepared: Dress and plan for the weather and time of day. Wear appropriate safety equipment, especially a helmet when on any public road, lane, or greenway. Utilize your bike lights when riding at night. Consider wearing bright colors or reflective gear.
9. Mobilize, Not Motorize: Motorized vehicles are not allowed on the greenway at any time. However, please note that in order to maintain the trail you may occasionally encounter maintenance vehicles and lawn mowers on and alongside the trail.
10. Report Emergencies: In an Emergency, Call 911. Report non-emergency concerns to Buncombe County Parks & Recreation: (828) 250-4260 or [email protected]
Give Today
Thank you for your support. Connect Buncombe is an all-volunteer 501(c)(3) organization, and your tax-deductable donation will be used to help make greenways happen in Buncombe County. Become a Member of Connect Buncombe by donating $35 or more which then gives you voting rights at our Annual Meeting.
Click on the button below to make an online donation. If you prefer, checks can be made to "Connect Buncombe" and mailed to Connect Buncombe, P.O. Box 16100, Asheville, NC 28816.