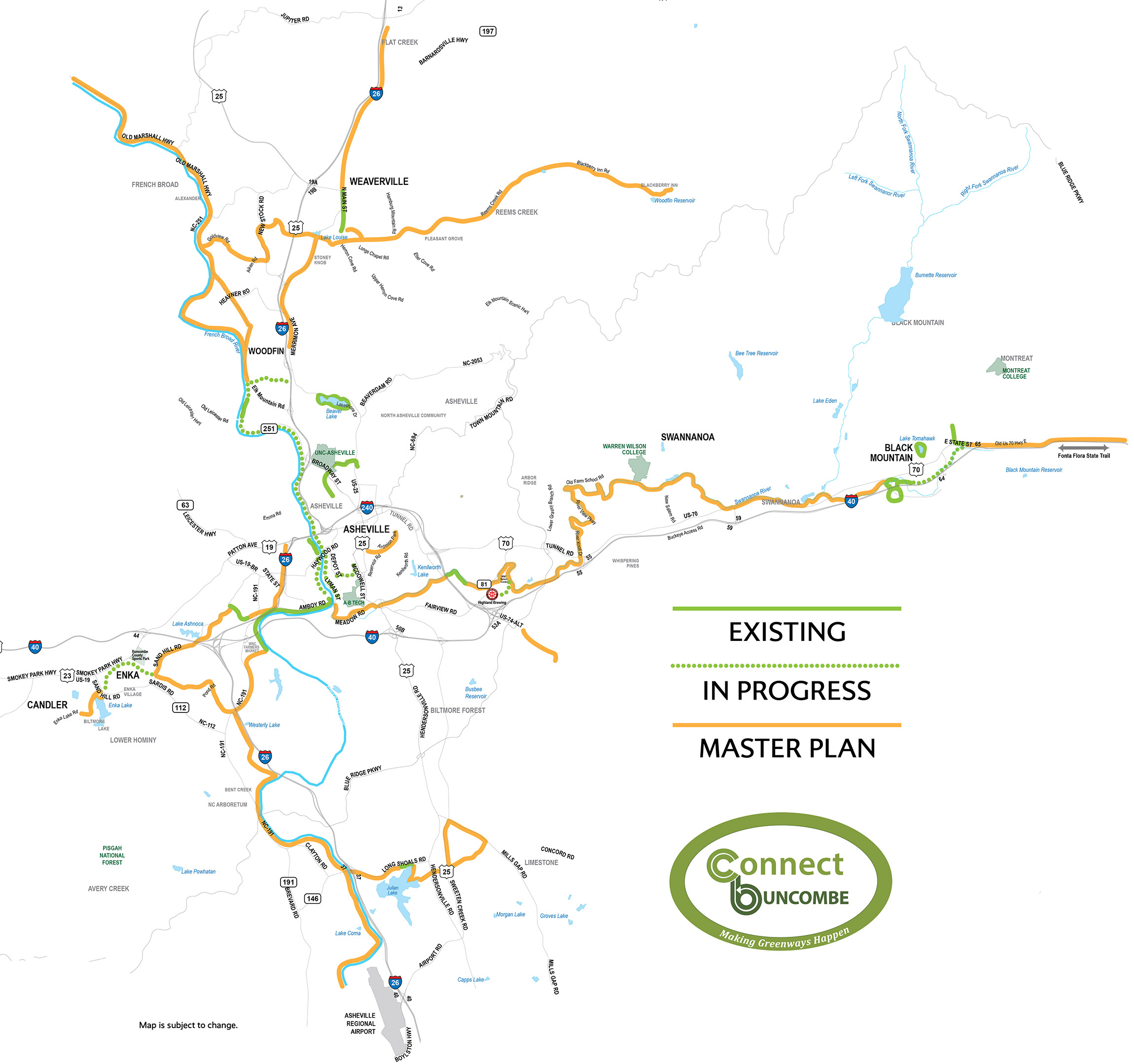 Friends of Connect Buncombe worked with partners and stakeholders throughout Buncombe County to envision a unified Trail Network branding concept that launched in 2015.
Ours is a place born of connections. Connections between people and mountains, rivers, and forests. Connections fostered by ancient paths used first by migrating animals, then by Native Americans, and then still by early North Carolinians who carved rough paths into trails and trails into roads.
These roads often followed flowing rivers and branched along rushing creeks. Near the confluence of the ancient French Broad and the Swannanoa a place emerged where thousands of drovers stopped to trade in a plateau that was a respite from the rigorous travel across mountain gaps.
It was here that a city was born that has evolved as one of America's most celebrated places for its spectacular setting and access to the outdoors. Around this city, farmers cultivated corn to feed the the passing livestock making Buncombe County a place of abundance that thrived with villages and towns.
Over time, some of these roads continued to be used while others faded into distant memories. The community around them continued to thrive and grow. This place has cultivated innovators, crafters, visionaries, and dreamers who mix with visitors who come to be in an authentic place set amongst the splendor of the Blue Ridge.
As we look to the future we reach back to our history, to this confluence of rivers, to these trails and roads that are a bequest to us from our ancestors. We look with a new vision of a network of trails that connect our communities and our people. This vision is to rediscover what it means to walk in the path of our forbearers, rediscover lost connections, invigorate our spirit and our health, foster community interaction for all walks of life, and celebrate this place that we call home.
Our vision is rooted in a name on the verge of celebrating 200 years. A name seldom used but not forgotten: The Buncombe Turnpike.
We use this name to honor our past and represent our vision.
The Buncombe Turnpike Trail Network: Cultivating Our Connections