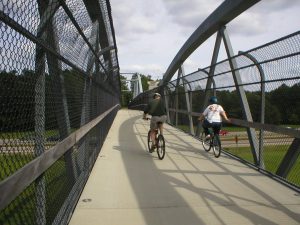 Footpaths and trails have been an integral part of America's landscape since the beginning. Native Americans hunted animals by following trails through forests and across open prairies. Over many decades, these narrow paths became trade routes and established transportation corridors. The western frontier of America was explored and expanded largely by foot and horseback. Canals and towpaths brought settlers and goods across the Appalachian Mountains. Pioneers following Indian pathways opened up the Northwest Territories. The Oregon Trail led wagon trains of pioneers to the Pacific Northwest, while El Camino Real linked Spanish Missionaries to the California coast. Today, America's highway system and streets of towns and cities follow many of these early trails and footpaths. Now millions of Americans, including those in Buncombe County, are rediscovering their roots and realizing the benefits of having these corridors close to home: outdoor recreation, exercise, and transportation and economic development. Greenways and trails are not only a link to our past- they are the gateways to a brighter tomorrow.
CASE STUDIES
Buncombe County is on the up-swing, aiming to catch up with the economic and social benefits these other communities! Hundreds of cities around the world have been developing their greenway systems for decades and are reaping the many benefits from their use. Examples include:
Greenville, SC: The Swamp Rabbit Trail is a 19.9 mile multi-use greenway system that runs along the Reedy River connecting Greenville County with schools, parks, and local businesses. The GHS Swamp Rabbit will continue to grow offering fun, non-motorized recreation and transportation opportunities wherever it goes. Read the 3-year study.
Durham, NC: The American Tobacco Trail is a 22+ mile rails-to-trails project located in the Triangle Region of North Carolina. The route crosses through the City of Durham; Durham, Chatham, and Wake counties.
The Outer Banks, NC: Bicycling is estimated to have an annual economic impact of $60 million and 1,407 jobs supported from the 40,800 visitors for whom bicycling was an important reason for choosing to vacation in the area. The annual return on bicycle facility development in the Outer Banks is approximately nine times higher than the initial investment.
Damascus, VA: At the Virginia Creeper Trail, a 34-mile trail in southwestern Virginia, locals and non-locals spend approximately $2.5 million annually related to their recreation visits. Of this amount, non-local visitors spend about $1.2 million directly in the Washington and Grayson County economies.
Morgantown, WV: The 45-mile Mon River trail system is credited by the Convention and Visitors Bureau for revitalizing an entire district of the city, with a reported $200 million in private investment as a direct result of the trail.
Tallahassee, FL: The Florida Department of Environmental Protection Office of Greenways & Trails estimate an economic benefit of $2.2 million annually from the 16-mile St. Marks Trail.
Knox-Blount Counties, TN:  The Maryville-to-Townsend Greenway Master Plan estimates the new greenway to provide $2.66 in economic benefits for every $1 in construction spending for this greenway. The total economic impact in the first ten years is estimated to be over $65 million.
Salem, OR: The land adjacent to a greenbelt was found to be worth about $1,200 an acre more than land only 1000 feet away.
Oakland, CA: A three-mile greenbelt around Lake Merritt, near the city center, was found to add $41 million to surrounding property values.
Apex, NC: The Shepard's Vineyard housing development added $5,000 to the price of 40 homes adjacent to the regional greenway, and those homes were also the first to sell.
San Antonio, TX: Riverwalk Park created for $425,000, has surpassed the Alamo as the most popular attraction for the city's $3.5-billion tourism industry.
Dallas, TX: The 20-mile Mineral Wells to Weatherford Trail attracts 300,000 people annually and generates local revenues of $2 million.
Front Royal, VA: A developer who donated a 50-foot-wide, seven-mile-long easement along a popular trail sold all 50 parcels bordering the trail in only four months.
Brevard, NC: Multi-use pathway