Local Group Hikes Current and Future Greenways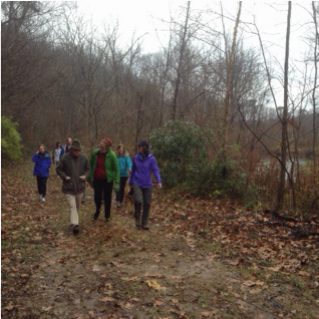 Yes, that's hiking, not walking. On January 14, 20 "hard core" Carolina Mountain Club hikers signed up to join something different from their typical rigorous hikes in on the mountain trails of our region.
The closer-to-home hike explored current and future greenways in Buncombe County and offered an alternative adventure for these nature junkies. I think of greenways as the "gateway drug" to hiking trails. Introducing these local trail-advocates to these paved and not-yet-paved 7-miles of paths revealed a backyard adventure they can share with new hikers as they initiate them into the world of hiking.
Not all planned paths are paved: With Doug (Brotherhug) Barlow as a guide to start our journey we began at the old Sulpher Springs near the Asheville School. We walked along the proposed Canie Creek greenway and Hominy Creek Greenway where we learned not only about the greenways themselves but about the history surrounding the land on which they're located. At the end of Hominy Creek Greenway the group paused to explore the old NC 191 bridge, a possible route for a future greenway to the Farmer's Market, before heading down Hominy Creek Rd. to Hominy Park and the French Broad River Greenway.
Others paths lead the way: Asheville has already completed almost 3 miles of greenway along the French Broad River with just a short connector under Amboy Rd. left to do. The section, from Carrier Park to the French Broad River Park, is heavily used by walkers, joggers and bicyclers. Businesses owners have taken notice and now adjacent to the greenways there are bars, bike-rentals, cafes, and a climbing gym. The hungry hikers on this adventure took a break for lunch at one of these new businesses, Edna's by the River.
In the end, it's a patchwork: At the end of the completed greenway, beside the dog park in the French Broad River Park, we headed into "no (wo)man's land"—a soon-to-be completed greenway on Duke Power Company property. We were surprised to find that the muddy pathway was almost as popular as the completed greenway we had just left. However, the last stretch of our walk was again paved, as we strolled toward our end-of-hike beers at New Belgium Brewery.
Over beers we talked about what we had learned on our "urban hike."
Speaking for Friends of Connect Buncombe, we hope to see them and you on our local trails again soon.